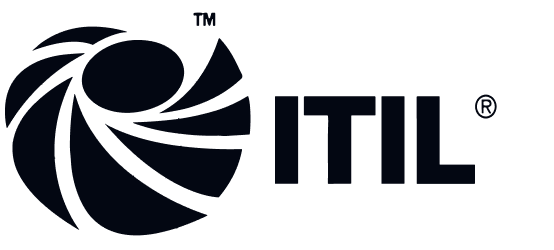 ITIL - IT Service Management
Course Fee

₹7000

Duration

30 hrs.

Level

beginner
ITIL (Information Technology Infrastructure Library) encompasses a set of best practices for IT Service Management, guiding organizations in efficiently delivering and managing IT services to meet business needs. ITIL covers various aspects, including service design, transition, operation, and continual improvement, fostering alignment between IT services and organizational goals. By following ITIL principles, businesses can enhance service quality, optimize resource utilization, and ensure seamless IT operations while adapting to evolving technology landscapes.
Enroll Now
Course Metadata
Training Type

Classroom

Online

Corporate

Batch Timings

For the latest training schedule, please
check the Schedules.

Weekdays

Early Morning
Morning
Afternoon
Evening
Fastrack

Weekends

Morning
Afternoon
Evening
Sat / Sun
Sunday Only
Training is available in small groups as well as on
one-to-one basis. Get in touch.
Introduction
ITIL (Information Technology Infrastructure Library) is a globally recognized framework for IT Service Management (ITSM) that provides a structured approach to planning, delivering, managing, and improving IT services within organizations. ITIL offers a comprehensive set of practices, guidelines, and processes that help align IT services with business objectives, enhance service quality, streamline operations, and foster continuous improvement. By adopting ITIL principles, businesses can achieve greater efficiency, customer satisfaction, and adaptability in an ever-evolving technological landscape.
Successsful Career
RST Forum has trained more than 700,000 students to date. Many students have gone on to successful careers in a variety of industries, while others have harnessed the entrepreneurial spirit and knowledge they acquired in RST Forum to start their own businesses and create new jobs.
Labs on cloud
RST Forum uses Cloud computing to efficiently provide "Platform As A Service" (PAAS) to its students enabling them to quickly access Technology Racks over the internet and practice lab exercise from home These Racks are populated with latest equipment's required for practical exercise's.
Web Forums
Our web based forum allows its users to ask, hundreds of technical experts about their technology and certification problem. RST forum is a tight knit community of working professionals that provide timely help on technical, certification and design related queries.
Enroll for this course now and boost your IT & Engineering career.
Master ITIL - IT Service Management today.